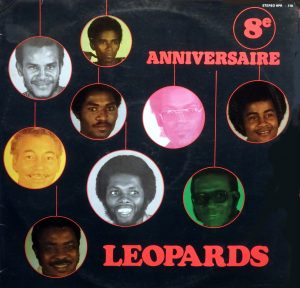 it's a couple of years since we've seen Les Leopards from
Martinique. Here's an album of which we don't know the
year it was released. It was their 8th anniversary, that much
is clear. Like most other records it came out on Hit Parade.
Unfortunately there are some minor sound issues here.
Some of the tracks show some resonance in the vocal
parts. Either way, we have no other options than to
listen to it as it comes. Enjoy it anyway ..
Het is alweer enkele jaren geleden dat we een plaat van
Les Leopards de la Martinique hadden. Van deze weten
we geen jaar van uitgifte. Hij was ter ere van hun 8ste
verjaardag, zoveel is duidelijk. Zoals de meeste van hun
albums kwam hij uit op Hit Parade. Helaas heeft hij enkele
kleine geluidskwesties. Op sommige nummers hoor je de
vokalen wat resoneren. Hoe dan ook, we hebben alleen
dit exemplaar om naar te luisteren, plezier ermee ..
Martinique 1983
Une Soirée avec Les Leopards de St. Pierre 1978
Meilleur Ensemble Martiniquais 1970 1970
Leopards et Ry-Co Jazz a Paris 1973
Les Leopards, Les Leopards 1973
"Les Leopards" 1975
01 – Roulé moin ka roulé
02 – Moin pas sauvage
03 – Pourquoi ?
04 – Conseil d'ami
05 – Le beau temps
06 – Monique
07 – Imprevu
08 – Débardeur