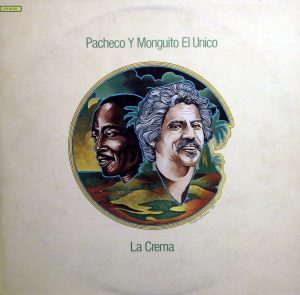 If listening to this we go back in time to the early eighties.
My friends and I used to visit a bar in Amsterdam called
'de Kroeg', it used to be at 'de Lijnbaansgracht'. We loved
it because they played salsa until early in the morning.
A lot of stuff from the great Fania label like this album.
We were young and partied like crazy in those days.
Real nice memories. Listen to Pacheco & Monguito ..
Als ik naar deze muziek luister ga ik terug in de tijd naar de
vroege jaren tachtig. Mijn vrienden en ik gingen met regel-
maat naar 'de Kroeg' aan de Lijnbaansgracht in Amsterdam.
Daar werd de hele nacht geweldige salsa gedraaid en soms
gespeeld. We waren verknocht aan die tent, tot 's morgens
vroeg werd er gedanst en gedronken. We waren jong en wild.
Prachtige herinneringen. Luister naar Pacheco & Monguito ..
Monguito, Wikipedia
Johnny Pacheco, Wikipedia
Monguito, Discogs
Johnny Pacheco, Discogs
Punteame Bien el Tres 1979
Yo No Soy Mentiroso 1979
Miren Que Suerte 1982
Alto Songo
In Curaçao 1980
Lassissi presents Monguito, Algo Diferente 1980
El Unico 1980
From Cuba to Africa 1980
El Unico ! 1984
Monguito el Unico y su Conjunto 1975
Pacheco y Monguito, Sabrosura 1980
Pacheco el Maestro 1975
Celia & Johnny 1974
Pacheco y el Conde 1972
Pacheco & Hector Casanova, Los Amigos 1979
Pacheco, the Artist 1977
Pacheco, Sabor Tipico
Tres de Cafe y Dos de Azucar 1973
Pacheco, 10 Great Years 1973
Pacheco, Cañonazo 1972
More Fania
01 – El diablo
02 – Se me fue
03 – La rebellon
04 – Esto si se llama querer
05 – Chambelon
06 – Me voy contigo
07 – Cuento na' ma
08 – A moron
09 – Quitate el chaqueton
10 – El pajaro y el cazador
11 – Amanecer guajiro
12 – Oye canuto
13 – Sasonando
14 – No tienes corazon