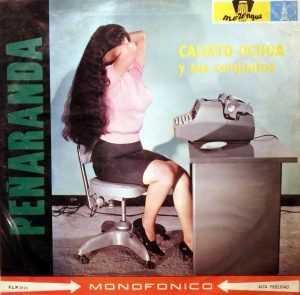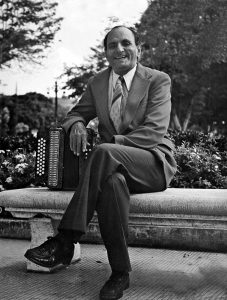 Peñaranda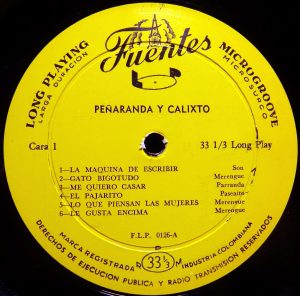 Dear groovers, on 'Merengue', a sub-label of Discos
Fuentes we find this old record with both José Maria
Peñaranda and Calixto Ochoa y sus Conjuntos. The
first is well known for his parrandas with naughty
lyrics, but he also did vallenatos and other genres.
On this 1963, according to Discogs his first album,
we find twelve songs in various styles. A rare
slice on the old yellow Fuentes label ..
Beste groovers, op 'Merengue', een sub-label van Discos
Fuentes vinden we vandaag deze oude plaat met zowel
José Maria Peñaranda als Calixto Ochoa en hun beider
Conjuntos. De eerste is bekend om zijn parranda's met
ondeugende teksten, maar hij deed ook vallenato en
andere stijlen. Op dit album uit 1963, volgens Discogs
zijn eerste, vinden we twaalf nummers in verschillende
smaken. Een zeldzame schijf op het oude
gele Fuentes label ..
01 – La maquina de escribir
02 – Gato bigotudo
03 – Me quiero casar
04 – El pajarito
05 – Lo que piensan las mujeres
06 – Le gusta encima
07 – Compadre mono
08 – Pochocho
09 – El tuerto de la mochila
10 – El tumor
11 – Las adivinanzas
12 – La picadura