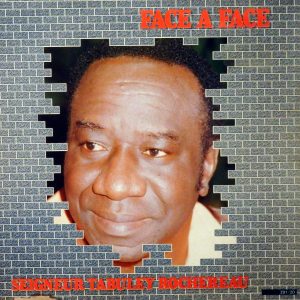 His style changed quite a bit over the years. I think this
1991 album with Rochereau is maybe not his very best
work. Considering the man's complete oeuvre we owe
him to listen to all his work. Face a Face, made in the
nineties, sounds like the nineties. Synthesized and
quite modern we see a lot of unfamiliar names. To me
only singer Faya Tess and guitarist Dizzy Mandjeku
ring bells. An addition to Tabu Ley's discography ..
Zijn stijl veranderde behoorlijk door de jaren. Ik denk
dat dit niet zijn allersterkste werk is, maar in het licht
van zijn complete oeuvre zijn we Rochereau verschuldigd
naar alles te luisteren. Face a Face uit 1991 klinkt ook echt
jaren 90. Gesynthetiseerd en tamelijk modern, een album
met veel onbekende namen. Alleen zangeres Faya Tess en
gitarist Dizzy Mandjeku doen bij mij belletjes rinkelen.
Voeg toe aan Tabu Ley's discografie ..
Babeti Soukous 1989
Mpeve Ya Longo, Rochereau vol. 7 1982
Rythme: Soum Geye 1980
Rochereau à l'Olympia vol. 2 1971
Seigneur Ley on Tour 1978
Tabu Ley lance Faya Tess 1987
Mbilia Bel et Rochereau, Contre Ma Volonté 1987
Mazé
Le Seigneur Rochereau 1970
Belle Epoque vol. 2 1984
with Dechaud & Mizele, Merveilles du Passé 1963 1987
Rochereau à Abidjan vol. III 1980
Rochereau à Abidjan vol. II 1980
Rochereau à Abidjan vol. I 1980
with Depuissant, Dechaud, izedi & Mujos, Merveilles du Passé 1962 1963 1986
En Amour y a Pas de Calcul 1982
with African Fiesta National le Peuple
Rochereau vol. 5 1982
Kwamy Nico Rochereau, Merveilles du Passé 1965 1984
with Afrisa International, african 360.127, Tabu Ley 1979
Rochereau à l'Olympia 1971
Nico, Rochereau & Izedi, Merveilles du Passé 1962 1963 1986
le Seigneur Rochereau, Sonafric 50 004
Tango Ya Ba Vieux Kalle no. 2 1969
african 360.040 1972
Rochereau vol. 6 1982
l'Afrique Danse no. 4 1969
dans la Musique Congolaise de Variétés 1970
with Pamelo Mounk'a & Mbilia Bel, 20 Ans de Carrière 1983
with Mbilia Bel, Eswi Yo Wapi 1983
with Sam Mangwana, Belle Epoque vol. IV 1985
with Sam Mangwana, Belle Epoque vol. III 1985
with Kalé & Ndombe Pépé
Merveilles du Passé no. 4 1969
Rochereau vol. 4 1980
with l'Orchestre Afrisa 1973
Belle Epoque vol. 1
Rochereay Tabu ley, featuring Mbilia Bel 1984
with Franco, l'Evenement à Paris
Tabu Ley in America 1984
African Fiesta, Music from Zaïre
African Fiesta, Authenticité vol. 2
African Party vol. 1 1968
Michelino & Franco with Rochereau 1984
Succes d'Hier 1969
Tabu ley canta Nyboma 1986
Tabu ley & Orchestre Afrisa 1974
Mbilia Bel, Faux Pas 1983
Orchestre Afrisa International 1975
with Sam Mangwana, Mose-Konzo
Mbilia Bel, Keyna/Cadence Mudanda 1984
Tabu Ley & Mbilia Bel, La Beauté d'une Femme 1985
Mbilia Bel, Beyanga 1987
Boybanda Michel with Tabu ley
Mbilia Bel, Ba Gerants Ya Mabala 1984
Mbilia Bel, Boya Ye 1985
01 – Face a face
02 – Sosolinga
03 – Walitcho
04 – Boubou
05 – Franco de mi amor
06 – Malab