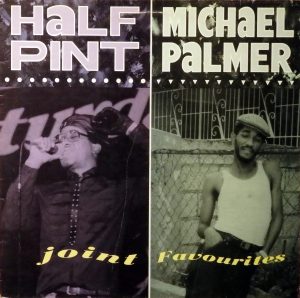 In het verleden heb ik meerdere reggae verzamelaars
met gouwe ouwe hits gecompileerd onder de naam
Reggae Monster originals. 'Crazy girl' van Halfpint
stond daar al op. Het nummer kwam van deze plaat
met aan de ene kant Michael Palmer en Halfpint op
de andere. Hij is uit 1986 en alhoewel Greensleeves
er minder blij mee is kan ik niet weerstaan deze van-
daag te brengen. Luister zelf ..
In the past I have made this series of reggae compilations
containing the hits I used to play a lot. It was called 'Reggae
Monster originals'. 'Crazy girl' by Halfpint was already on
one of them. This is the record I took it from. It is an album
with on one side Michael Palmer and on the other side
Halfpint. From 1986 and although Greensleeves doesn't
like it I couldn't resist posting the elpee today. Listen ..
MP wikipedia
HP wikipedia
MP discogs
HP discogs
Half Pint, Greetings 1986
01 – Micael Palmer – You're safe
02 – Micael Palmer – Belly lick
03 – Micael Palmer – Read your bible
04 – Micael Palmer – I don't know why
05 – Micael Palmer – Saw you at the dance
06 – Half Pint – Crazy girl
07 – Half Pint – What's going down
08 – Half Pint – Tell me this, tell me that
09 – Half Pint – Day I can't forget
10 – Half Pint – Freedom fighters