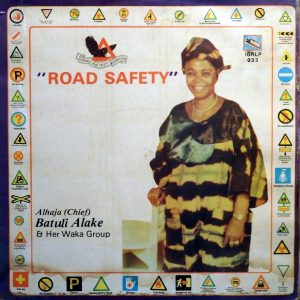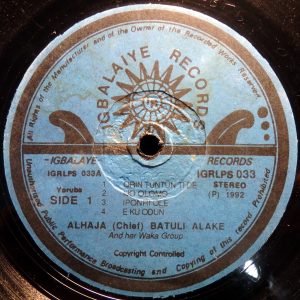 Through this album Alhaja Batuli Alake was contributing
to realise less carnage at Nigerian roads. She was one of
the great waka artists in the field. Online we find her as
Batile or Batili instead of Batuli like on this record. Read
her Wiki page and learn more about this Yoruba celebrity.
The elpee 'Road Safety' is a 1991 release. I accidentally
switched sides 1 and 2, 'Road Safety' as
a title now comes first ..
Alhaja Batuli Alake trachtte door deze plaat een bijdrage
te leveren aan de veiligheid op Nigeriaanse wegen en zo
minder dodelijke ongelukken voor mens en dier te be-
werkstelligen. Online vinden we haar als Batile of Batili.
Zij was een van de eerste vrouwen die de Waka Fuji op
elpee zette. Lees haar Wiki pagina en leer meer over
deze Yoruba coryfee. Ik heb van deze 1991 uitgave
per ongeluk de a en b zijde omgedraaid, zo komt
'Road Safety' als nummer het eerst ..
Wikipedia
Discogs
the Eagle Online
01 – Road safety
—- Didun niyioma dun
—- E gborin laruge
02 – Orin tuntun ti de
—- Ijo olomo
—- Iponri ole
—- E ku odun