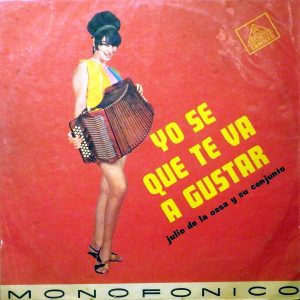 Hello good morning, due to a switch of internet provider
something went wrong and left me without a proper
connection for a week. No TV, no internet, we're not
used to be without anymore. No posts, no downloads
etcetera. walking the dog and playing music a lot were
perfect occupations though. Fortunately everything is
working again so let's see .. It's been a while since we
had some vallenato so today let's do another Colombian
treasure with Julio de la Ossa. This is an oldie from 1967.
Twelve songs from the man who became Rey Vallenato
on the 8th edition of the famous festival in 1975.
Enjoy these early songs ..
Hallo goeiemorgen, wegens verandering van internet
provider ging er iets mis en zat ik een week zonder
connectie. Geen TV, geen internet, dat zijn we al lang
niet meer gewend. Geen posts, geen downloads etc.
Muziek luisteren en lange wandelingen met de hond
waren perfecte bezigheden ondertussen. Gelukkig
werkt alles weer naar behoren dus laat eens zien ..
Het was alweer een half jaar geleden dat we vallenato
hadden dus vandaag weer eens een plaat met Colombia's
Julio de la Ossa. Dit is een oudje uit 1967. Twaalf nummers
van de man die Rey Vallenato werd op de 8ste editie van
het fameuze festival in 1975. Luister
naar dit vroege werk ..
Porta Vallenato
Vallenato legend Festival
Discogs
Lo Mejor de Julio de la Ossa 1975
with Andrés Landero, Los Triunfadores 1969
El Preso Distinguido 1969
Rey Vallenato 1975 1975
8º Rey Vallenato 1975
01 – Yo se que te va a gustar
02 – Adios mi vida
03 – No sientes cariño
04 – Te fuiste
05 – Te conozco
06 – Penando en vida
07 – Pide que pide
08 – Me voy lejos
09 – Olvidate de mi
10 – La vi llorando
11 – Negrita
12 – Dejate acariciar