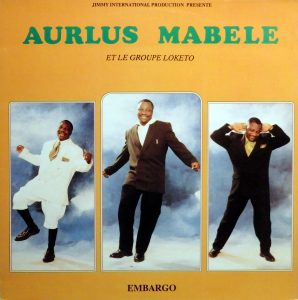 From Brazzaville we have this album with Aurlus Mabélé.
He was the founder of Groupe Loketo and people called
him the 'King of Soukous'. This is a record from 1991, Dally
Kimoko does the sharp soukous guitar parts.
If you have a summer dance party, don't skip some of
these tracks, absolute dance floor killers ..
Uit Brazzaville vinden we vandaag deze plaat met Aurlus
Mabélé. Hij was de man die groupe Loketo oprichtte en
men noemde hem de 'King of Soukous'. Dit album is uit
1991, Dally Kimoko neemt de scherpe soukous gitaar
voor z'n rekening. Als je een zomer dans
feestje hebt, vegeet dan niet enkele van deze nummers
te draaien, absolute dansvloer 'killers' ..
Wikipedia on Aurlus Mabélé
Wikipedia on Groupe Loketo
Discogs, Aurlus Mabélé
Discogs, Groupe Loketo
Diblo et Loketo, Super Soukous 1989
Diblo et Loketo, Super K 1987
01 – Embargo
02 – Asta-di
03 – Mawa
04 – Betty
05 – Liste rouge
06 – Un seul dieu